Since amputations were so common pile of dismembered limbs like this were often found
outsideof hospital tents. Contrary to common belief it was rare that men underwent
amputation without any anesthesia. Chloroform and alcohol were common ones. Here
is a picture of a bottle of chloroform from the civil war that was used my a surgeon.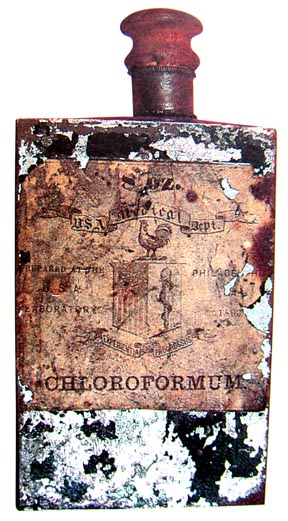 This is a common amputation kit. There are saws for cutting bone, knives for cutting flesh,
and tweezers for removing bullets and bone fragments. Ewww.
http://acwstories.com/Documents/RCC.1864.08.16%20-%20Civil%20War%20Prison%20
Record%20-%20Admitted%20to%20Hospital.jpg
If you go to the link you can see a much bigger and better quality version of this. It is a
hospital record. O'm not sure where it is from but it has, from left to right, name rank
company regiment date admitted and date discharged. We don't know what the injuries
were but bullet wounds and sickness were very common.
A Doctor embalming a dead man. Most bodies were not embalmed but this
man was one of the lucky few.